If you're Googling "Roach Control Scottsdale" while looking for exterminators, A BEE & PEST PRO can help! Schedule Roach Control in Scottsdale, Arizona today by giving us a call at (480) 694-8994.
You will find the nasty cockroach in every city, Scottsdale is not an exception. A cockroach infestation can occur due to many reasons; it just depends on the type of roach.
Roach Control In Scottsdale
There are five common types of roaches in Arizona, including the Oriental, German, Turkestan, Brownbanded, and American cockroach. Although all these types of cockroach have their similarities, each one has differences that are important between species. A BEE & PEST PRO are experienced and offer cockroach treatment that is tailored to the type of species for the highest effectiveness.
Cause of Roach Infestation
The majority of roaches will enter buildings from the outside. They may come riding on boxes, furniture, or other items, or they may travel through sewer openings. The cause of an infestation can vary depending on the type of cockroach. If you can't figure out which type of roach you are dealing with, check out our roach pool identification guide. Below is more detail on the different types of roaches commonly found throughout Scottsdale, Arizona:
American cockroach:
Like the oriental, this species prefers a cool and wet environment. However, they tend to live outside, and only tend to enter through foundations and drains.
Turkestan cockroach:
This species is primarily an outdoor roach. However, the males are attracted by light at night and may find their way inside your home.
Brownbanded cockroach:
This is a roach that prefers a warmer and dryer environment. They nest exclusively indoors and tend to live in higher locations, such as picture frames and ceilings. A common cause for infestation is bringing them in on furniture or moving boxes.
German cockroach:
This species tends to prefer living indoors near warm and wet areas, such as bathroom and kitchen racks. They warmth of a running appliance is another preferred area. The German cockroach is also commonly brought in within moving boxes or other types of items.
Oriental cockroach:
This species prefers a cooler, wet environment and often live inside basements by drains, pipes and voids in the wall. Very common in bathrooms. These may be brought in through objects, but may travel by pipe.
Roach Control Treatment
Our team of professional technicians have the experience and training to correctly identify the various type of cockroach infestations. The first step to treating an infestation is proper identification of the species, as this indicates where a nest is likely located. With this information, treatment is much more effective.
After determining the type (or types) of cockroaches you are having issues with, they inspect the property thoroughly for nesting locations, then apply the correct treatment.
Here in Scottsdale, cockroaches are a very common issue and often requires continued inspections, access denial, and treatments. A cockroach is very persistent, knowing what you can expect after receiving one of our cockroach treatments is important. Treatment plans vary based on the type of roach as well.
It can take months to gain control over an infestation of German cockroaches, and other types can be controlled much quicker.

What To Expect After Roach Control Treatment
After the initial treatment, you will likely notice an increase of cockroach activity. The reason for this is due to the roaches being flushed out of hiding from the treatment because we treated where they breed and nest.
Generally, it takes several treatments to gain control with an ongoing inspection/treatment plan to maintain the control.
In any situation, our technicians will be able to inform you of the type of cockroach you are having issues with, and be able to inform you about expectations with your individual situation.
Cockroach Prevention
The cause of a roach infestation is not necessarily cleanliness. Although cockroaches are attracted by a food source, this can range from human food or pet food, to cardboard boxes and paper. Because it's not likely to be able to eliminate every food source roaches feed on, prevention can be challenging.
However, vigilance is a main factor in prevention. Seal up cereal containers, pasta, crackers and even the dog food to be air tight.  Reduce your clutter and eliminate any extra cardboard boxes, or use plastic containers when possible. Clean and position metal baskets in every drain, ensure leaks are fixed and drains are caulked. Also, do not over water landscaping.
Schedule Roach Control Services In Scottsdale, Arizona
A Bee & Pest Pro has been servicing my home for several years. I have monthly pest control done and have never had an issue with scorpions, ants, bees or other critters. Jason is always reliable, professional and courteous. Thanks for keeping my home and family safe in the desert!
A BEE & PEST PRO backs each of our service plans with an easy to understand guarantee: If you feel an additional service is needed between scheduled treatments, or you simply are not satisfied, give us a call and we will re-send a technician out to service your property, at no cost. Schedule Roach Control in Scottsdale, Arizona today by giving us a call at (480) 694-8994.
Summary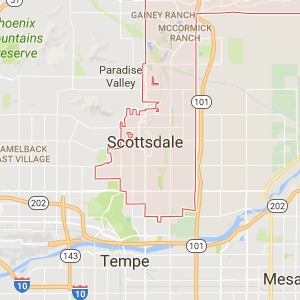 Service Type
Provider Name
A BEE & PEST PRO
,
E Raintree Dr
,
Scottsdale
,
Arizona
-
85255-1804
,
Telephone No.(480) 694-8994
Area
Description
If you're Googling "Roach Control Scottsdale" while looking for exterminators, A BEE & PEST PRO can help!